[This article is from the 2010/March Issue of Computrade Magazine]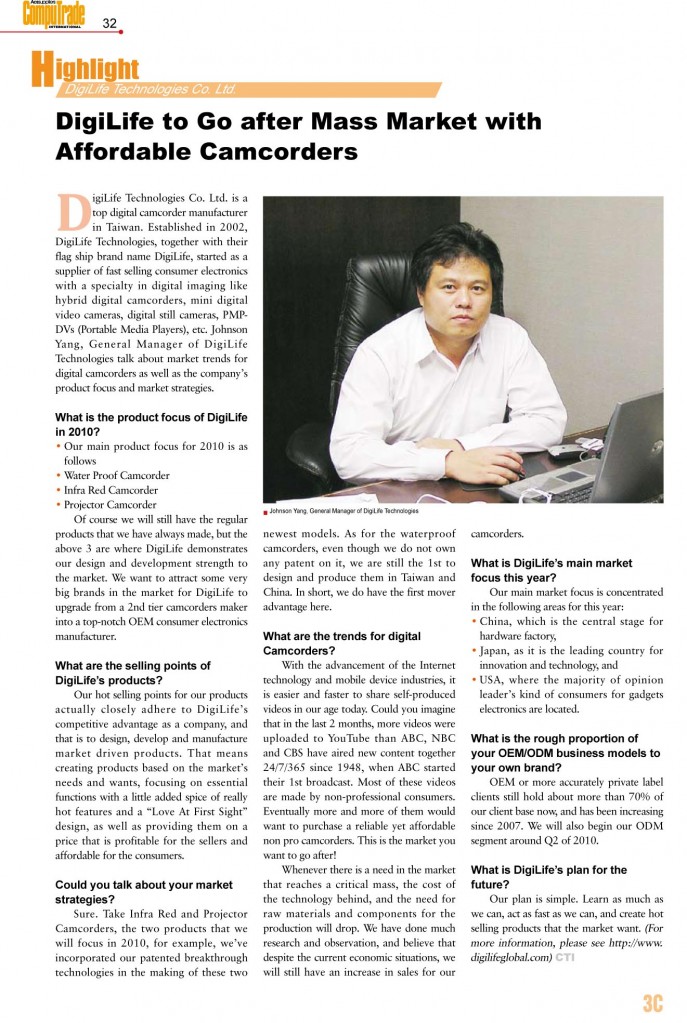 DigiLife Technologies Co. Ltd. is a top digital camcorder manufacturer in Taiwan. Established in 2002, DigiLife Technologies, together with their flag ship brand name DigiLife, started as a supplier of fast selling consumer electronics with a specialty in digital imaging like hybrid digital camcorders, mini digital video cameras, digital still cameras, PMP-DVs (Portable Media Players), etc. Johnson Yang, General Manager of DigiLife Technologies talk about market trends for digital camcorders as well as the company's product focus and market strategies.
What is the product focus of DigiLife in 2010?
Our main product focus for 2010 is as follows
- Water Proof Camcorder
- Infra Red Camcorder
- Projector Camcorder
Of course we will still have the regular products that we have always made, but the above 3 are where DigiLife demonstrates our design and development strength to the market. We want to attract some very big brands in the market for DigiLife to upgrade from a 2nd tier camcorders maker into a top-notch OEM consumer electronics manufacturer.
What are the selling points of DigiLife's products?
Our hot selling points for our products actually closely adhere to DigiLife's competitive advantage as a company, and that is to design, develop and manufacture market driven products. That means creating products based on the market's needs and wants, focusing on essential functions with a little added spice of really hot features and a "Love At First Sight" design, as well as providing them on a price that is profitable for the sellers and affordable for the consumers.