[This article is from the 2010/March Issue of Computrade Magazine]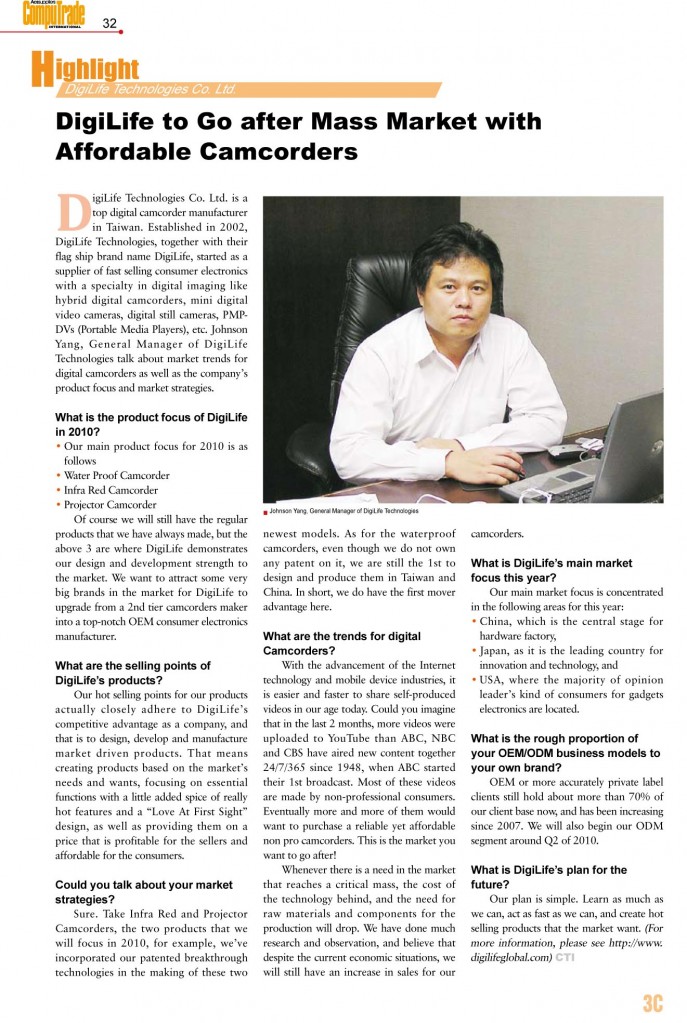 DigiLife Technologies Co. Ltd. is a top digital camcorder manufacturer in Taiwan. Established in 2002, DigiLife Technologies, together with their flag ship brand name DigiLife, started as a supplier of fast selling consumer electronics with a specialty in digital imaging like hybrid digital camcorders, mini digital video cameras, digital still cameras, PMP-DVs (Portable Media Players), etc. Johnson Yang, General Manager of DigiLife Technologies talk about market trends for digital camcorders as well as the company's product focus and market strategies.
What is the product focus of DigiLife in 2010?
Our main product focus for 2010 is as follows
- Water Proof Camcorder
- Infra Red Camcorder
- Projector Camcorder
Of course we will still have the regular products that we have always made, but the above 3 are where DigiLife demonstrates our design and development strength to the market. We want to attract some very big brands in the market for DigiLife to upgrade from a 2nd tier camcorders maker into a top-notch OEM consumer electronics manufacturer.
What are the selling points of DigiLife's products?
Our hot selling points for our products actually closely adhere to DigiLife's competitive advantage as a company, and that is to design, develop and manufacture market driven products. That means creating products based on the market's needs and wants, focusing on essential functions with a little added spice of really hot features and a "Love At First Sight" design, as well as providing them on a price that is profitable for the sellers and affordable for the consumers.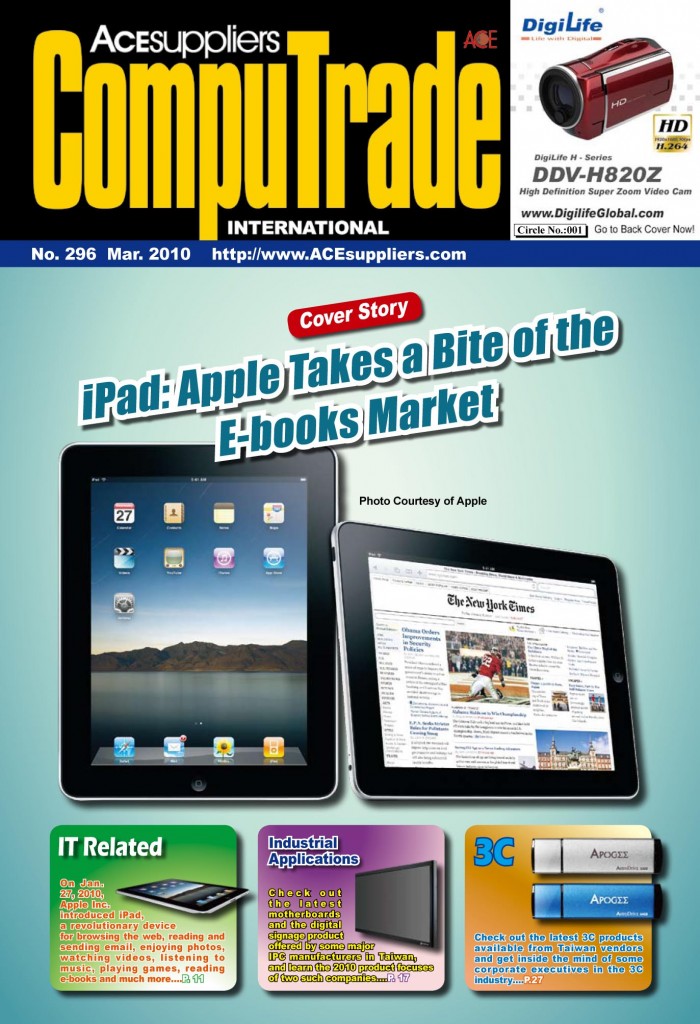 Could you talk about your market strategies?
Sure. Take Infra Red and Projector Camcorders, the two products that we will focus in 2010, for example, we've incorporated our patented breakthrough technologies in the making of these two newest models. As for the waterproof camcorders, even though we do not own any patent on it, we are still the 1st to design and produce them in Taiwan and China. In short, we do have the first mover advantage here.
What are the trends for digital Camcorders?
With the advancement of the Internet technology and mobile device industries, it is easier and faster to share self-produced videos in our age today. Could you imagine that in the last 2 months, more videos were uploaded to YouTube than ABC, NBC and CBS have aired new content together 24/7/365 since 1948, when ABC started their 1st broadcast. Most of these videos are made by non-professional consumers. Eventually more and more of them would want to purchase a reliable yet affordable non pro camcorders. This is the market you want to go after!
Whenever there is a need in the market that reaches a critical mass, the cost of the technology behind, and the need for raw materials and components for the production will drop. We have done much research and observation, and believe that despite the current economic situations, we will still have an increase in sales for our camcorders.
What is DigiLife's main market focus this year?
Our main market focus is concentrated in the following areas for this year:
China, which is the central stage for hardware factory, Japan, as it is the leading country for innovation and technology, and USA, where the majority of opinion leader's kind of consumers for gadgets electronics are located.
What is the rough proportion of your OEM/ODM business models to your own brand?
OEM or more accurately private label clients still hold about more than 70% of our client base now, and has been increasing since 2007. We will also begin our ODM segment around Q2 of 2010.
What is DigiLife's plan for the future?
Our plan is simple. Learn as much as we can, act as fast as we can, and create hot selling products that the market want.
You can click here to assess the original article.