Established in 2002, DigiLife Technologies Co. Ltd (Digilife) is one of the leading manufacturers of "Lifestyle Enhancing" consumer electronic in Asia. Over the years we had successfully designed, developed and market a whole range of innovative DIGILIFE products, OEM or ODM projects ranging from digital cameras to mini DV camcorders, PMP and more.
(A) Our Core Competence!  
Production Capabilities
The challenge of any Taiwan company now is to provide a Taiwan Quality Production with a China Made pricing. This had been in the mind of DigiLife management since 2002 and had been preparing and simply waiting for the right timing.

DigiLife's new 11,000 meter square (Building space: 45,000 meter square) production facilities is not only equipped with State of the Art facilities (E.G. : SMT machine, 1 Clean room (<1,000 particle) for Lens assembly , another(<100,000 particle) for final assembly & Warehouse…etc) ,it is run by the best "brains" from Taiwan. More importantly, it is also located in the prime location at DongGuan Houjie which is only 40 mins from Shenzhen Airport and 100 mins from Hong Kong, with most of the major component supplier within the facilities.
(B) Our Team & Technology
-Industrial Design
Our Industrial Design (ID) Team is made up of the right mixed of design talents mainly,  the Seasoned Veteran and Young Trendy Designers. The result, brilliantly colored, superbly crafted and robust looking housing design that will make the target consumers fell in LOVE at first sight.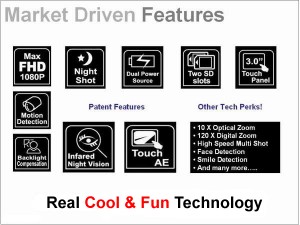 -Research & Development
   Our R &D team is made up of some the most sorts after Engineering Talents in the industries. Not only are they very seasoned and experienced with the "tech stuff"; they also have an acute sense to market needs and trends. Each came with an average experience of 9-15 years, quite a few of them had even worked with some of the "Big Boys" before they join us.
-Service Driven Marketing
We believe in Long Term Profitable Business Relationship. That's why our marketing and sales teams are not only highly responsive to your needs but are also spontaneous and innovative to land on opportunities that are mutually beneficial to our various business associates. Our choice of business partnership, whether for our own DIGILIFE consumer electronic products' resellers and distributors or for our OE M and ODM projects, are Not Solely based on sales quantity but also in terms of shared visions, business value, long term growth and profitability for both parties
.
(C)Successful Track Records!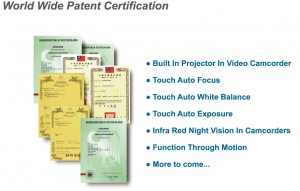 Since 2002, DigiLife Technologies had set numerous records in the industries. In Taiwan where our head office are based, our DIGILIFE digital cameras was in the Top Three Best Seller in 2003, our digital video cameras had also capture a market share of 40% and received the [Popular Product Award] by PC Magazine Taiwan in 2004. With our bold vision and sound business practice, DigiLife had successfully established to be one of the leading sources for digital cameras, mini digital video cameras or DV camcorders, and other related consumer electronic products within a few short years.
(D) Future Challenges!
As we anticipate to new market trends and challenges ahead, DigiLife Technologies are always in constant pursuit of Excellence, in terms of our R&D capability, product design, sales volume and service quality. With an ever growing R&D and management team that are very innovative and highly responsive to market trends, we are always ready to undertake the many opportunities that continue to arise in the market place.
Share Our Growth & Profit! Partner With Us!
Our business growth is rapid, and our market potential…. simply tremendous!
As we are currently expanding aggressively to the other major parts of the global market, we are constantly looking for "like minded" business associates to grow and profit with us.
If you are looking for digital cameras, digital video cameras, mini dv camcorders and other related consumer electronic products that sell like hotcakes, you will want to partner with us. And we believe that we can forge a long lasting and profitable business relationship together.
CLICK HERE TO WATCH A SHORT MOVIE ABOUT DIGILIFE

OR