Established in 2002, DigiLife Technologies Co. Ltd (Digilife) is one of the leading manufacturers of "Lifestyle Enhancing" consumer electronic in Asia. Over the years we had successfully designed, developed and market a whole range of innovative DIGILIFE products, OEM or ODM projects ranging from digital cameras to mini DV camcorders, PMP and more.
(A)Successful Track Records!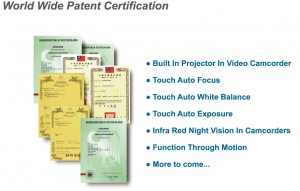 Since 2002, DigiLife Technologies had set numerous records in the industries. In Taiwan where our head office are based, our DIGILIFE digital cameras was in the Top Three Best Seller in 2003, our digital video cameras had also capture a market share of 40% and received the [Popular Product Award] by PC Magazine Taiwan in 2004. With our bold vision and sound business practice, DigiLife had successfully established to be one of the leading sources for digital cameras, mini digital video cameras or DV camcorders, and other related consumer electronic products within a few short years.
(B) Future Challenges!
As we anticipate to new market trends and challenges ahead, DigiLife Technologies are always in constant pursuit of Excellence, in terms of our R&D capability, product design, sales volume and service quality. With an ever growing R&D and management team that are very innovative and highly responsive to market trends, we are always ready to undertake the many opportunities that continue to arise in the market place.
Share Our Growth & Profit! Partner With Us!
Our business growth is rapid, and our market potential…. simply tremendous!
As we are currently expanding aggressively to the other major parts of the global market, we are constantly looking for "like minded" business associates to grow and profit with us.
If you are looking for digital cameras, digital video cameras, mini dv camcorders and other related consumer electronic products that sell like hotcakes, you will want to partner with us. And we believe that we can forge a long lasting and profitable business relationship together.